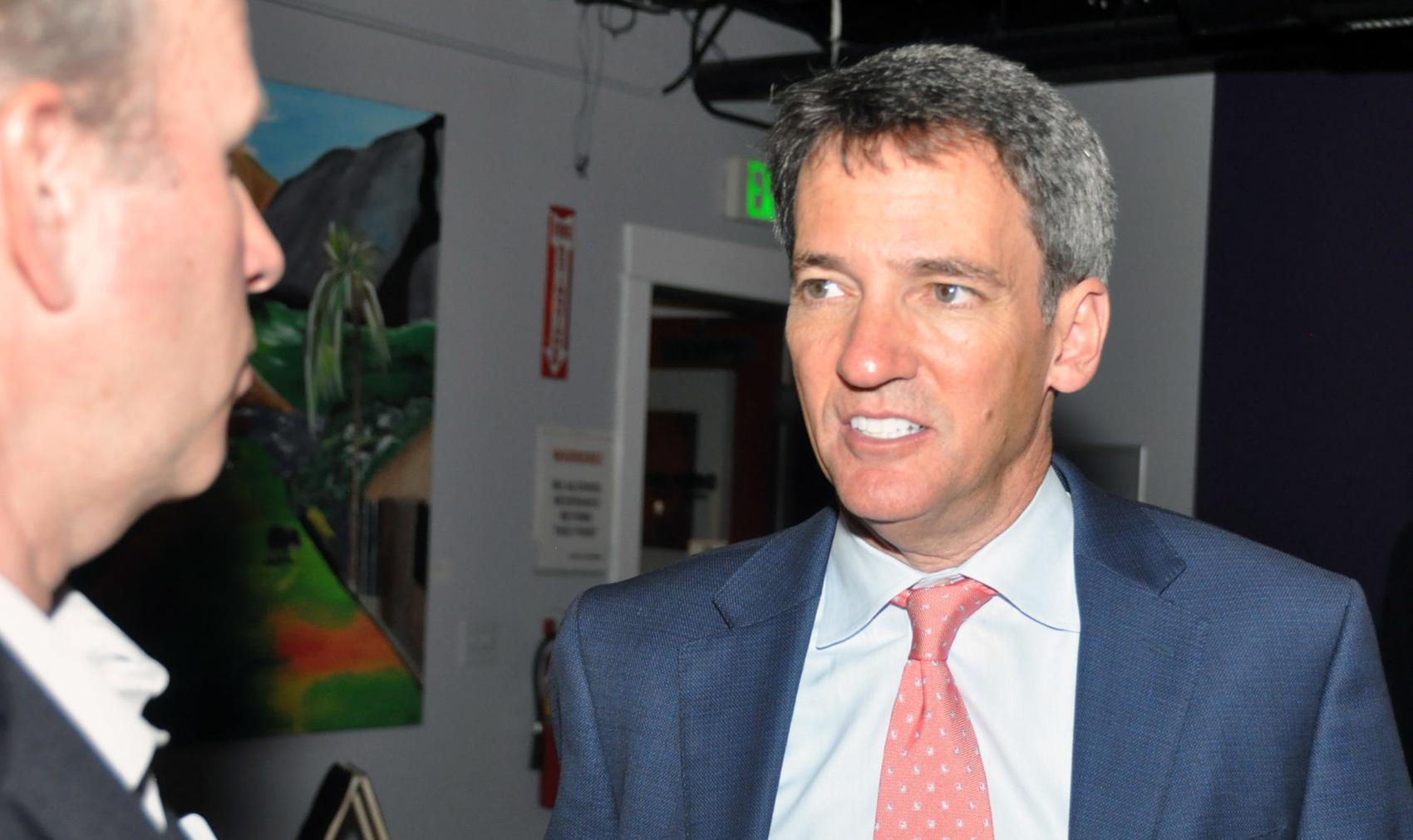 Andrew Romanoff announced Tuesday that his U.S. Senate campaign has won endorsements from more than 250 current and former elected officials, including a former congressman and dozens of state lawmakers.
"This is what a grassroots campaign looks like. Thousands of Coloradans are joining our call to repair our democracy and restore the American dream," said Romanoff, a former speaker of the Colorado Home of Representatives and a past president and CEO of Mental Health Colorado, in a statement.
Romanoff is one of a dozen Democrats running for the chance to challenge Republican U.S. Sen. Cory Gardner in the 2020 election.
Former U.S. Rep. John Salazar praised Romanoff's leadership abilities and called the candidate "a common-sense problem solver [who] knows how to deliver results."
"He's always stood up for Colorado's farmers, and he knows how important agriculture is to our state's economy," added Salazar, who served four years as Colorado's commissioner of agriculture after losing his seat in Congress, in a statement.
"I've seen firsthand Andrew's success expanding economic opportunity in Colorado's agriculture sector and his fierce commitment to the people of Colorado. It's clear that Andrew is the best candidate to take on Cory Gardner."
Polly Baca, a former vice chair of the Democratic National Committee and the first Latina to serve in the Colorado Senate, said she's supporting Romanoff "because he cares about our diverse communities, understands the legislative process, and has the experience and commitment to fight for what we need in the U.S. Senate."
Below is the list of endorsers released by the Romanoff campaign:
Laurie Albright, former Boulder Valley Board of Education member
Marlo Alston, Centennial city councilwoman
Jennifer Anderson, former Iliff mayor
Clint Anderson, Fort Morgan City Council member
Patrick Anderson, former Centennial City Council member
Lynn Baca, Brighton City Council member
Polly Baca, former state senator
Bob Bacon, former state senator
Susan Barnes-Gelt, former Denver City Council member
Laurie Beckel, former Clear Creek Board of Education member
Jennie Belval, former Boulder Valley Board of Education member
Debbie Benefield, former state representative
Karen Benker, former Longmont City Council member
Lee Berenato, Silver Plume mayor
Christine Berg, former Lafayette mayor
Jeff Bergeron, Breckenridge Town Council member
Elaine Gantz Berman, former State Board of Education member
Shannon Bird, state representative
Gene Bittner, Holyoke City Council member
Kendra Black, Denver City Council member
Clint Blackhurst, Brighton City Council member
Bennett Boeschenstein, former Grand Junction mayor pro tem
Nancy Bogenhagen, former Cheyenne County commissioner
Ben Bohmfalk, Carbondale trustee
Alice Borodkin, former state representative
Beverly Breakstone, former Summit County Assessor
Carol Brom, former president, RE-1 Valley Board of Education
Bruce Brown, District Attorney for the Fifth Judicial District
Cheryl Brown-Kovacic, Salida City Council member
Mary Estill Buchanan, former Secretary of State
Rene Bullock, former Commerce city mayor pro tem
Lezlie Burkley, former Salida Board of Education president
Donald Cadwallader, former president, Eaton Board of Education
Cindy Carlisle, Boulder City Council member
Kathy Chandler-Henry, Eagle County commissioner
Jeff Chostner, Pueblo District Attorney
Bruce Christensen, former Glenwood Springs mayor
Polly Christensen, Longmont mayor pro tem
Teresa Coons, former Grand Junction mayor
Lois Court, state senator
Aimee Cox, former Manitou Springs mayor pro tem
David Crespin, Fort Lupton City Council
Kathleen Curry, former state representative
Kristina Daniel, Alamosa City Council member
Frank Daniels, former Mesa County District Attorney
Thomas Davidson, Summit County commissioner
Mitchell Davis, Palmer Lake trustee
Roxie Deane, former Eagle mayor
Daymond Deatrich, Flagler trustee
Mat DeGraaf, Pagosa Springs Town Council member
Cindy Domenico, former Boulder County commissioner
Nate Donovan, Poudre Board of Education
Maureen Dower, Berthoud trustee
Jim Engelken, former Steamboat Springs council member
Ron Engels, Chair, Gilpin County Board of commissioners
Rafael Espinoza, Denver City Council member
Antonio Esquibel, Northglenn City Council member
Tony Exum, state representative
Kathy Farley, former Pueblo County commissioner
Dorothea Farris, former Pitkin County commissioner
Tom Feldkamp, Bow Mar mayor
Jill Fellman, former Jefferson County Board of Education member
Ken Fellman, former Arvada mayor
Jay Fetcher, former president, Steamboat Springs Board of Education
Bob Fifer, Arvada City Council member
Skip Fischer, former Adams County commissioner
Bill Fisher, former Lakewood City Council member
Jaime FitzSimons, Summit County Sheriff
Dennis Flores, Pueblo City Council president
Val Flores, State Board of Education member
Lynne Fox, former Thornton City Council member
Bob French, former Summit County commissioner
Sara Gagliardi, former state representative
Bob Gaiser, former Broomfield City Council member
Anthony Garcia, Holly mayor
Kathy Gebhardt, Boulder Valley Board of Education Vice president
Erin Gigliello, Breckenridge Town Council member
Kathy Gilliland, former Loveland mayor
Mack Goodman, former Thornton City Council member
Sherry Goodman, Thornton City Council member
Keith Goodwin, Otero County commissioner
Crystal Gray, former Boulder Deputy mayor
Peter Groff, former State Senate president
Anne Guettler, Garfield RE-2 Board of Education president
Susan Gutowsky, Fort Collins City Council member
Theresa Hamilton, Rifle mayor pro tem
Deanna Hanna, former state senator
Terry Hart, Pueblo County commissioner
Tom Heffernan, former Ridgway Town Council member
Kathryn Heider, former Central city mayor
Eva Henry, Adams County commissioner
Tony Hernandez, former state representative
Jeff Hindman, Berthoud mayor pro tem
John Hoffman, former Carbondale trustee
Bill Holen, Arapahoe County commissioner
Janeece Hoppe, Wheat Ridge mayor pro tem
Gerry Horak, former Fort Collins mayor pro tem
Lynn Horner, La Junta mayor
Tresi Houpt, former Garfield County commissioner
Pam Howard, Thompson Board of Education Vice president
Evie Hudak, former state senator
Debi Hunter-Holen, former Aurora City Council member
Steve Ivancie, former Routt County commissioner
Nancy Jackson, Arapahoe County commissioner
Leah Johnson, Loveland City Council member
Matt Johnston, Brighton City Council member
Joel Judd, former state representative
Daniel Kagan, former state senator
PK Kaiser, Arapahoe County Assessor
Jeannie Kaplan, former Denver Board of Education member
David Karisny, Fruita Town Council member
Will Karspeck, Berthoud mayor
Paul Kashmann, Denver City Council member
Ty Keel, Cortez Town Council member
John Kefalas, Larimer County commissioner
Peggy Kerns, former House Minority Leader
Cathy Kipp, state representative
Kevin Kreeger, Broomfield City Council member
Brian Laak, Berthoud trustee
Jacob LaBure, Lakewood City Council member
Kizzen Laki, Crestone trustee
Harriet LaMair, former Cherry Hills Village City Council member
Elisabeth Lawrence, Summit County commissioner
Pete Lee, state senator
Meredith Leighty, Northglenn City Council member
Karen Leonhart, Fruita Town Council member
Kevin Leung, Douglas County Board of Education member
Anna Lord, former president, Manitou Springs Board of Education
Mamie Lynch, former Archuleta County commissioner
Sandra Maez, Ignacio trustee
Jerry Mallett, former Chaffee County commissioner
Dennis Maloney, Louisville City Council member
Bennet Manvel, former Fort Collins City Council member
Sweetie Marbury, former Durango mayor
Kayla Marcella, Lake County commissioner
Tina Marquis, Boulder Valley Board of Education president
Rosemary Marshall, former state representative
Richard Martyr, St. Vrain Valley Board of Education member
Mike May, former House Minority Leader
Denny McCloskey, former Broomfield City Council member
Sean McCoy, former Longmont City Council member
Carol McDermott, former Montrose mayor pro tem
Jason McEldowney, former Commerce City Council member
Buffie McFadyen, former state representative and Pueblo County commissioner
Anne McGihon, former state representative
Robert McVay, Hot Sulphur Springs mayor
Paula Medina, La Jara mayor pro tem
Arn Menconi, former Eagle County commissioner
Michael Merrifield, former state senator
Vic Meyers, former Trinidad Board of Education member
Carl Miller, former state representative
Dot Miller, Arvada City Council member
Diane Mitsch Bush, former state representative
Doug Monger, Routt County commissioner
Jim Montoya, former Las Animas County commissioner
Candace Moon, Centennial City Council member
Vorry Moon, former Centennial City Council member
Lisa Morzel, Boulder City Council member
Andrew Muckle, former Superior mayor
Jeanne Nicholson, former state senator
Chris Nicoll, Pueblo City Council president
Del Olivas, Pueblo County Treasurer
Garrison Ortiz, Pueblo County commissioner
Gilbert Ortiz Jr., Pueblo County Clerk
Karen Oxman, former Golden mayor pro tem
Larry Pace, former Adams County commissioner
Pat Pascoe, former state senator
Bill Patterson, former Montrose County commissioner
Dennis Pearson, Eads Town Council member
Joan Peck, Longmont City Council member
Cherylin Peniston, former state representative
Kathy Plomer, president, Adams 12 Board of Education
Bob Poirot, former Clear Creek County commissioner
Karen Ragland, St. Vrain Valley Board of Education member
Tom Redder, former state representative
Tim Redmond, Hayden Town Council member
Peggy Reeves, former state senator
Paul Reich, Telluride Board of Education Secretary/Treasurer
Millie Renke, former Gilcrest trustee
Joe Reorda, former Trinidad mayor
Rachel Richards, Aspen City Council member
Jim Riesberg, former state representative
Jim Rizzuto, former state senator
Jeanne Robb, former president, Denver City Council
Mark Romanowski, former Johnstown mayor
Chuck Rose, former Salida mayor
Dave Rose, former Brighton mayor
Wilma Rose, former Brighton City Council member
Su Ryden, former state representative
John Salazar, former Congressman
Bernadette Saleh, Sheridan Board of Education president
Leroy Sandoval, former Otero County commissioner
Kitty Sargent, Boulder Valley Board of Education member
David Schanzenbaker, Pagosa Springs Town Council member
Auden Schendler, Basalt Town Council member
Kyle Schlacter, Littleton City Council member
Jim Schmidt, Crested Butte mayor
Andy Schultheiss, former Boulder City Council member
Lawrence Sena, former Las Animas mayor
Ron Slinger, former Gilpin County commissioner
Marjorie Sloan, Golden mayor
Myrrl Smith, Blanca mayor
Patsie Smith, former Hugo mayor
Sandy Smith, former vice president, Archuleta County Board of Education
Marc Snyder, state representative
Judy Solano, former state representative
John Soper, former state representative
Jim Starr, former Gunnison County commissioner
Paula Stepp, Glenwood Springs City Council member
Karn Stiegelmeyer, Summit County commissioner
Bill Stirling, former Aspen mayor
Anna Stout, Grand Junction City Council member
Dan Stuart, former Manitou Springs mayor
Stacy Suniga, Greeley City Council member
Mary Beth Susman, Denver City Council member
Robert Symons, Yampa mayor
Jan Tanner, former president, Colorado Springs District 11 Board of Education
Abel Tapia, former state senator
Kirk Taylor, Pueblo County Sheriff
Chaz Tedesco, Adams County commissioner
Karen Teja, former Colorado Springs District 11 Board of Education member
Nancy Tellez, former president, Poudre Board of Education
Casey Tighe, Jefferson County commissioner
Tom Tobiassen, former RTD board member
Lois Tochtrop, former state senator
Chris Tookey, Silverton mayor
Donald Valdez, state representative
Bill Vidal, former Denver mayor
Val Vigil, former state representative
Sharon Vincent, Lakewood City Council member
Rick Voorhees, Glenwood City Council member
Deborah Wallace, former Aurora City Council member
Tim Waters, Longmont City Council member
Paul Weissmann, Boulder County Treasurer
Randy Wheelock, Clear Creek County commissioner
Wally White, former La Plata County commissioner
Jacque Whitsitt, Basalt mayor
Suzanne Williams, former state senator
Roger Wilson, former state representative
Sue Windels, former state senator
Dean Wingfield, Yuma County commissioner
Cheryl Wink, Englewood City Council member
Chris Wiseman, Pueblo County commissioner
Dottie Woltemath, former president, Julesburg Board of Education
Kathi Wright, Loveland City Council member
Ruth Wright, former House Minority Leader
Genevieve Yellowman, Rico trustee
Luis Yllanes, Carbondale trustee
Jerry Yocom, former Gilpin County Board of Education member
Larry Zaragoza, La Jara mayor
Read the original article from Colorado Politics
Contact | press@andrewromanoff.com
---